Outstanding Service Award
The University of Maryland College Park Foundation annually presents its Outstanding Service Award to an individual whose support of the University has helped it to achieve its current status as one of the top research universities in the country. These award recipients, both dedicated alumni and honorary Terps, have made important contributions to the University of Maryland, its surrounding community, our state and beyond.

2018 Recipient: Senator Nancy King
Senator Nancy King has demonstrated, for decades, a commitment to both K through 12 and higher education. She served eight years on the Montgomery County Board of Education prior to being elected to the House of Delegates representing District 39 and, since 2007, has served the same district in the Maryland Senate. Senator King has shown tremendous support for the University of Maryland through her work on the Budget and Taxation Committee and as chair of its Education, Business and Administration subcommittee. Her Senate colleagues recognized her service during the 2017 legislative session, presenting her the First Citizen award for outstanding public service. Senator King's outstanding service on behalf of our institution make her a dear friend of the University of Maryland and an honorary Terp.

2017 Recipient: Congressman Steny H. Hoyer
Since 1981, Congressman Steny Hoyer has represented Marylanders in the U.S. House of Representatives. In that body, he has served as House Majority Leader and as House Minority Whip, and, as of June 2007, is the longest-serving representative from Maryland in history. Prior to his Congressional service, Hoyer served 12 years in the Maryland Senate representing 26th District residents in Prince George's County, including three years as the youngest-ever Senate President in Maryland. He then became a member of the State Board of Higher Education for three years before being elected to Congress. Hoyer is a 1963 graduate of the University of Maryland and a diehard, lifelong Terp. Whether representing our student, faculty and staff in the federal legislature or cheering on the Terps, he has dedicated his career to outstanding service.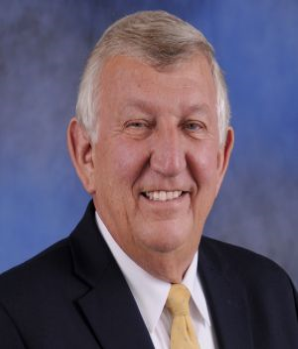 2016 Recipient: Senator Ed DeGrange, Sr.
Senator James "Ed" DeGrange, Sr. has represented the 32nd district in Anne Arundel County in the Maryland Senate since 1998. He has been instrumental in securing funding for many important UMCP projects such as the Edward St. John Learning and Teaching Center. Prior to serving as Senator, DeGrange was a successful small business owner and was as a member of the Anne Arundel County Council. His outstanding service to his community extends from Holy Trinity Catholic Church to the Glen Burnie Improvement Association and the Rotary Club of Glen Burnie. DeGrange is also past president of the Take Back Our Streets charitable foundation providing assistance to families in need in Northern Anne Arundel County. Since 2000, he has managed community development and business relations on behalf of the Baltimore Washington Medical Center. A native of Baltimore, DeGrange is a proud Terp parent.
2015 Recipient: Delegate Adrienne Jones
Delegate Adrienne A. Jones' decades-long career in Baltimore County government and the Maryland House of Delegates has earned her pioneer status among women and minorities. In 1997, after a distinguished career in Baltimore County government, Jones was appointed by Governor Parris Glendening to represent District 10 in the Maryland House of Delegates. She has been reelected for successive terms ever since. In 2003, she became the first African American woman in Maryland history to serve as Speaker Pro Tem. Jones' outstanding service to Baltimore County and the state has earned her numerous awards and accolades by organizations statewide. Among colleagues in Baltimore County and the General Assembly, she is known for her work ethic and consensus-building; among constituents, she is known for prioritizing legislation regarding education, juveniles and discrimination. Jones is a leading advocate for higher education within the General Assembly and has been an important supporter of UMCP. She is a lifelong resident of Baltimore County and founder of the Annual Baltimore County African American Cultural Festival.
2015 Recipient: Senator Edward Kasemeyer
Senator Edward J. Kasemeyer's outstanding service touches residents in Baltimore and Howard Counties, whom he represents in the Maryland House of Delegates, and across the state. A small business owner and community leader, he was first elected to the Maryland Senate in 1987, where he has since served as deputy majority leader and majority leader. Kasemeyer is a longtime advocate for higher education in Maryland, providing a strong voice in support of keeping our public institutions both affordable and excellent. In addition, he has demonstrated passion for spurring economic development and providing services to the developmentally disabled and others in need throughout the state. Kasemeyer is a past President of the Howard County Chamber of Commerce, and has served on boards for the University of Maryland Medical System, Howard County Conservancy, Howard County General Hospital and the Howard County Housing Alliance. A resident of Columbia, Maryland, for more than 50 years, he is the recipient of many community leadership awards.

2014 Recipient: Victoria Gruber
An attorney specializing in legislative and governmental matters, Victoria Gruber has since 2006 served as Counsel to the Maryland Senate and as Chief of Staff to Maryland Senate President Thomas V. Mike Miller, Jr. A native of Silver Spring, she is also a proud Terp, having been elected Vice President and President of the Student Government Association during her days as a student at the University of Maryland College Park. Prior to beginning her work for the Maryland General Assembly in 1999, Gruber was as a legislative lobbyist for organizations in the healthcare, professional sports, public safety and law enforcement industries. Her outstanding service earned her the First Citizen Award by the Senate of Maryland, and her community leadership has also been lauded by The Daily Record and the Baltimore Sun. Gruber's personal and professional dedication to our state and her loyalty to the University of Maryland represent the very best of what it means to be a Terp.

2013 Recipient: State Treasurer Nancy Kopp
First elected by the Maryland General Assembly in 2002, Nancy K. Kopp is the 23rd Maryland State Treasurer since the adoption of the State Constitution of 1851. She is the second woman ever to serve as Maryland's State Treasurer and is currently the only woman serving Maryland in a Constitutional Office. In her role, Kopp holds several appointments in state government, including as a member of the Board of Public Works, serving alongside the Governor and Comptroller. Prior to her election as Treasurer, Kopp served 27 years representing District 16 of Montgomery County in the Maryland House of Delegates. A leading voice on educational issues, she was a key supporter of the reorganization of higher education in the state, which led to the University of Maryland's being named the state's flagship campus. Kopp's career of outstanding service to our state has earned her countless awards from organizations across Maryland.

2013 Recipient: County Executive Rushern Baker
In 2010, Rushern L. Baker, III was elected the seventh County Executive of Prince George's County, the highest income African-American majority county in America, the second largest jurisdiction by population in the State of Maryland and home to the University of Maryland. He quickly earned a reputation as a collaborator, working closely with other state and regional leaders to pursue positive change, focusing on creating jobs, growing the economy, and improving public safety and education in the County. Baker's outstanding service includes notable accomplishments in stimulating local economic growth, raising the County's profile in the Washington, D.C., metropolitan region, and addressing healthcare disparities among its residents. He has demonstrated measured and accountable leadership in our community and, as both a legislator and County Executive, has shown tremendous commitment to the growth and prominence of the University of Maryland.

2012 Recipient: Speaker Michael E. Busch
That Speaker Michael E. Busch was unanimously elected to become Speaker of the Maryland House of Delegates, by Democratic and Republican colleagues alike, communicates a great deal about his commitment to service in the General Assembly, across our state and in the local community of Annapolis that he represents. He has served District 30 (and now District 30A) since 1987 and is the longest serving House Speaker in Maryland history since assuming that position in 2003. Busch possesses renowned, even-handed leadership and demonstrates a continued willingness to work with legislators from across the State and across party lines to tackle complex issues, from consumer protection to economic development. Born in Baltimore, and is a former high school teacher and football coach, Busch has long been and continues to be a fervent supporter of higher education in Maryland.

2011 Recipient: Lt. Governor Anthony Brown
Lt. Governor Anthony G. Brown has a career deeply shaped by the value of service to others. After spending more than 25 years serving in the U.S. Army Reserve as an aviator and JAG officer, during which he was awarded the Legion of Merit and a Bronze Star, he was elected to the Maryland House of Delegates in 1998. Representing Prince George's County, home to the University of Maryland, Brown was quickly recognized for his leadership in the General Assembly, which has propelled him to serve two terms as Lt. Governor of the State alongside Governor Martin O'Malley. His service in that role has demonstrated a commitment to expanding and improving healthcare, spurring economic development, assisting domestic violence victims, providing support to veterans and increasing access to higher education.

2010 Recipient: Senate President Thomas V. "Mike" Miller, Jr.
After serving a single term in the Maryland House of Delegates, Maryland Senate President Thomas V. "Mike" Miller, Jr. became a state Senator representing Prince George's County in 1974 and in 1987 was elected President of the Maryland Senate. He now holds the distinction of being the longest-serving Senate President in the United States. A trial lawyer by trade, through the years Miller has been the recipient of numerous accolades for his service to the community, including the Tyser Medallion Award and the Outstanding Alumnus Award, both granted by the University of Maryland Alumni Association. Through the decades since his graduation from the University, Miller has provided continued support for our students, faculty and staff, as well as the expansion and improvement of our campus.